7km crawl along PLUS expressway heading north following accident

Last Update: 12/10/2019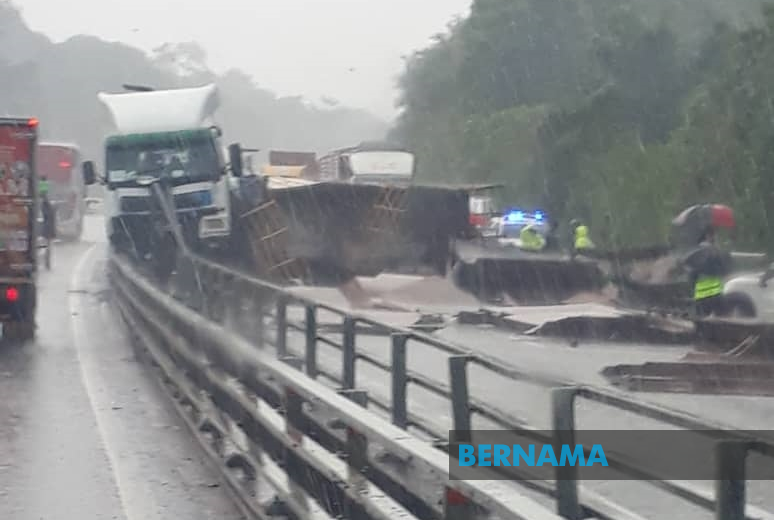 IPOH, Oct 11-- The traffic along the North-South Expressway (PLUS) heading north was diverted to Jalan Persekutuan at the Sungkai Toll Plaza following an accident involving two vehicles at Kilometer 348 near Bidor today.
Tapah district police chief Supt Wan Azharuddin Wan Ismail said the accident occurred around 3.40 pm involving a trailer lorry carrying a load of plywood and a multi-purpose vehicle (MPV).
He said initial investigations revealed that the lorry driver had lost control of the vehicle and hit the barricades in the middle of the road before overturning.
"The MPV, which was coming from behind crashed into the back of the lorry, however, no injuries or casualties were reported.
As a result of the accident, the northbound lanes were completely closed and vehicles were diverted to Jalan Persekutuan at Sungkai Toll before exiting at Bidor Toll," he said in a statement here today.
According to Wan Azharuddin at the time of the incident the road structure was straight, but it was raining and the case is being investigated under Rule 10 of the Road Traffic Rules 1959 (Rule 10 LN 166/59) for failing to control the vehicle and causing the accident.
Meanwhile, a check on PLUS Malaysia Berhad's Twitter page informed that at 6.18 pm, the accident had caused a congestion for about seven kilometres to the north.
"The northbound traffic is about 7km and the southbound jam is 4km. Use an alternate route," said an alert on PLUS' Twitter page.
-- BERNAMA