Tok Bali MPF seizes smuggled cigarettes worth RM349,800

Last Update: 12/10/2019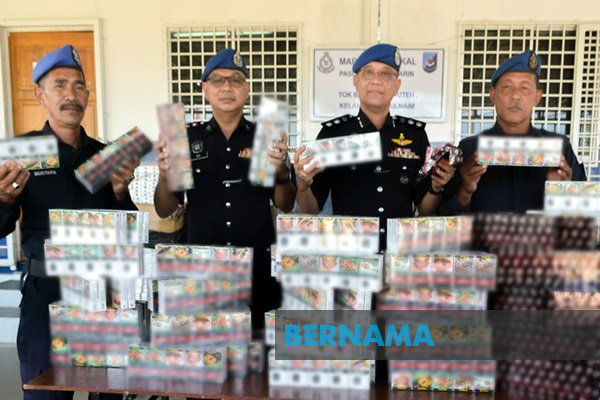 PASIR PUTEH, Oct 12 -- The Tok Bali Region Three Marine Police Force (MPF) seized 66 boxes containing 3,300 cartons of white cigarettes, worth RM349,800, in a smuggling attempt at seven nautical miles from Semarak Beach here, yesterday morning.
Its commander, ACP Norzaid Muhammad Said said a team headed by ASP Nik Ali Nik Mat was patrolling under Ops Gelora when they came across a boat in Laut Melawi, Bachok, at 3 am.
''The boat sped off towards Pantai Semerak, upon realising the presence of police, in an effort to escape,'' he told a media conference at the Tok Bali MPF Tactical Headquarters here today.
He said the suspects dumped the boxes overboard and escaped from the MPF patrol boat after a one-hour chase.
''The MPF patrol boat was almost rammed by the suspects' boat at one point but we managed to take evasive action,'' he said.
Norzaid said the cigarettes were believed to have been brought in from neighbouring Thailand to be marketed in Kelantan, Terengganu and Pahang where the demands were said to be high.
He said the suspects were believed to be locals who used the sea via high-powered boats following the tight land enforcement along the Malaysia-Thai border.
The case was being investigated under the Customs Act 1967.
-- BERNAMA