Clay lamps continue to light up Deepavali

Last Update: 13/10/2019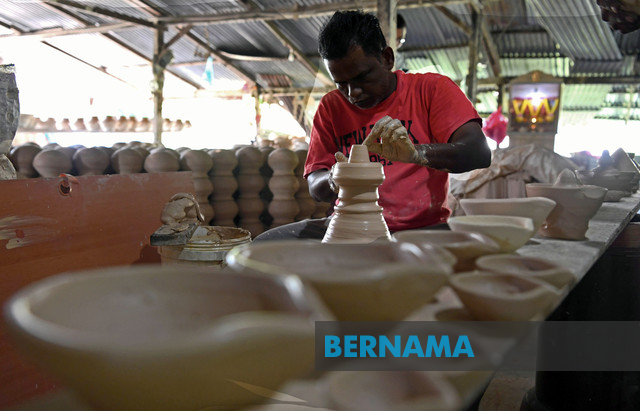 By Kenny Teng Khoon Hock
NIBONG TEBAL, Oct 13 -- Clay lamps continue to serve as an integral feature of Deepavali, the festival of lights commemorating the triumph of good over evil, that will be celebrated on Oct 26 this year.
In fact, demand for the obligatory accessory that is lit in all Hindu homes, continues to rise, said D. Reguraj, who manufactures the lamps at his clay factory and sells the items at his shophouse, K Devaraja Pottery located on the border between Parit Buntar and Nibong Tebal.
It is a family business that has run for five generations and began some 120 years ago, the 43-year-old told Bernama.
In preparation for this year's celebration, the businessman has produced about 30,000 different types of clay lamps, with the help of his wife, R. Thulasi, 40, and 12 employees.
The lamps are created the traditional way which takes up more time, and begins with the kneading of the clay with water, after which, it is moulded into lamps of various shapes and sizes, and left to dry before being smoked and 'fired' so that they harden, Reguraj explained.
"Then we decorate them with paint and patterns to make them more attractive", he added.
The width of the lamps range from one to 18 inches, while most of them are priced from 10 sen to RM20, with tiered lamps fetching between RM20 and RM40.
The small-sized lamps are still the favourite among customers who come from across Peninsular Malaysia, particularly the northern states, Reguraj said.
-- BERNAMA