Saying goodbye is the hardest part - ETA

Last Update: 14/10/2019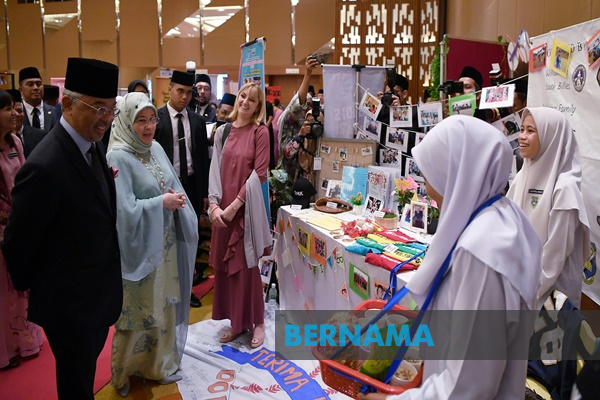 By Siti Salwa Shaari
KUANTAN, Oct 14 -- When Ana Camila Bailey arrived in Pahang to participate in the English Teaching Assistant (ETA) programme early this year, she was confident that it would be a breeze and in about a year, she would have no problem flying back to Virginia, in the United States.
Little did she know that after spending most of her time with her students in Sekolah Menengah Kebangsaan (SMK) Setiawangsa in Kuala Lipis near here, saying goodbye would be the hardest part of the programme.
Bailey, 23, said her final class with the students is on Oct 24, and as for now, they had been doing a lot of 'lepak' sessions including an outing to KFC restaurant in Lipis's town.
"I am so proud of them for their excellent progress. When I first met them, most of them were too shy to speak English...not because they did not understand it, but mostly due to lack of practice.
"I took a selfie with them just to break the ice. It helped because they got excited and then they started to communicate with me," she told Bernama when met at the Pahang Fulbright English Teaching Assistant Showcase 2019, here today.
The event was graced by the Yang di-Pertuan Agong Al-Sultan Abdullah Ri'ayatuddin Al-Mustafa Billah Shah and Raja Permaisuri Agong Tunku Hajah Azizah Aminah Maimunah Iskandariah.
Bailey said, at first, she strived to come out with interesting and creative ways to get the students to participate in the teaching and learning process but it became a lot easier when she changed the rule of the game and asked them to teach her some simple Malay sentences.
"Suddenly it became a two-way communication. From a simple sentence, I started to include more complex words. They became excited to learn and their enthusiasm was inspiring. Now, they are more confident to start a conversation with me," she said.
Bailey said she was also grateful for today's communication technology as it would allow her to keep in touch with her students when she is a thousand miles away, as most of them had become her followers on Instagram.
Having spent months in Lipis, Bailey said that she had also grown to love some of Malaysia's traditional dishes particularly nasi lemak, ikan patin masak tempoyak and sambal hitam that is famous in Lipis.
"I still can't stand spicy food but the taste is too good to resist. I normally cry when eating sambal hitam, but it did not stop me (from eating more)," she said.
Meanwhile, Zachary Gordon, 23, is grinning from ear to ear when he recalled how his students from SMK Pekan near here used to run away when they saw him around the school compound, most probably to avoid having to speak English.
Gordon noted that he felt most satisfied when the students, including from the Orang Asli community, come to him just to say hello as it showed their willingness to learn English.
"I have to be silly with them. I jumped, I danced and I sang to them just to prove that English is fun and that nobody has to be perfect to use it. It's my mother tongue but I am also learning. Thus, it is okay for them to make mistakes," he said.
One of Gordon's Orang Asli student, Farida Chick, 16, admitted that it felt weird in the beginning to see a white man with a blonde hair in class.
"I think he speaks too fast. It was already difficult to understand his accent, let alone to fathom what he was talking about.
"Most of the time I had to ask Sir Zach (Gordon) to repeat his sentence a few times...but as time goes by, I can understand him better and now are more confident to speak in English," she said.
-- BERNAMA