Harrif blown to third place by crosswinds at ToP

Last Update: 16/10/2019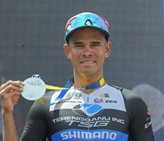 CHUKAI, Oct 16 – Terengganu Inc TSG Cycling Team (TSG) rider, Mohd Harrif Salleh who hoped to win the stage in his home state, has to be contented with the third place in the second stage of the inaugural Tour of Peninsular (ToP) today.
The 31-year-old sprint expert ended the 157.4 km race from Pasarnita Tanjung, Kuala Terengganu to Padang Astaka, Chukai behind South African, Rohan du Plooy representing ProTouch and Iranian, Amirhossein Jamshidian Ghlehsefidi of Foolad Mobarakeh Sepahan team in three hours, 30 minutes and 43 seconds.
In the race today, riders have to face strong crosswinds from South China Sea along the east coast route which saw three sprint zones in Marang, Kuala Dungun and Paka, before the climb zone at Kijal, 15 km before the finish.
After several breakaways in the race, a surprise sprint by a small group in the climb zone including Rohan caused Harrif and other riders in the main group unable to pursue the South African despite being assisted by his teammates.
"The breeze was just too strong for any attempt to breakaway. I also sprinted at the end of the race but just could not chase up," he said after the prize presentation ceremony.
In the Le Tour de Langkawi (LTdL) in April, Harrif, who is also known as Mamat, won the second stage from Senawang to Melaka.
Meanwhile, TSG coach, Jeremy Hunt was clearly not happy with the team's performance in today's race.
"It is a good stage, but we are not so happy. We need to come up with a better plan for upcoming stages… I think the teams wanted to race at the end...Like Vino (Vino–Astana Motors) and ProTouch, chased very hard and attacked, but no one to follow. We still have three more stages to go, we see how it goes," he said.
He is still confident of their Russian rider, Artem Ovechkin who was LTdL 2018 champion would be able to overcome the challenge from other teams in the following stage.
Artem ended the race today in the 52nd spot, is now in the 31st position with a time of 7:28.31s, which is 0.32 second behind leader , Elchin Asadov of the Azerbaijan national squad for the yellow jersey (general classification).
In stage three from Padang MPK 2, Kuantan to Jalan Besar Karak (172.7km) tomorrow will see another interesting race with three sprint zones in Temerloh, Chenor and Gambang, apart from a category 4 climb in Sri Jaya.
-- BERNAMA