19 items listed under 2019 Deepavali price control list

Last Update: 16/10/2019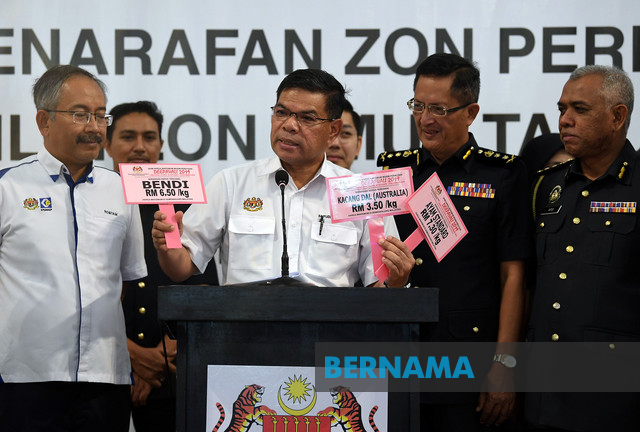 KUANTAN, Oct 16 -- The Deepavali festive price control scheme involves 19 items, compared to 16 items last year, said Domestic Trade and Consumer Affairs (KPDNHEP) Minister Datuk Seri Saifuddin Nasution Ismail.
Three new items have been added to this year's list and they include round cabbage imported from China and Indonesia excluding Beijing cabbage, ladies finger and dried chillies. The scheme would be in force for 14 days from Oct 20 to Nov 2.
Other items include live chicken, standard and super chicken, local mutton with bones, imported mutton with bones, imported lamb with bones, grade A, B and C chicken eggs, tomato, coconut and grated coconut, Indian red onion, imported onion, imported potatoes from China and lentils (dhal) from Australia.
"The maximum price is determined based on, among others, nationwide price monitoring from 2018 to October this year, views of various relevant government agencies and discussions with manufacturers, importers, suppliers and wholesalers.
"Determining the prices for the states involved are made in accordance with market price and price fluctuations, in particular imported goods influenced by prices in the country of origin and currency exchange rates," he told a press conference after opening the Ratings of the 2019 Selected Trade Zone (ZPT) for the East Zone, here today.
Saifuddin Nasution also reminded traders to place pink price tags on controlled price items. Failure to do so could result in fines of up to RM10,000 or a maximum compound of RM5,000 for individuals, while for companies, the maximum fine was RM20,000 or a compound of RM10,000 .
Meanwhile, the selling of goods above the controlled price carried a maximum fine of RM100,000 or an imprisonment of up to three years or both or a fine of up to RM50,000 for individuals.
"The ministry will also increase the presence of enforcement officers in selected areas which is also the focal point of the people to create a safe and ethical business environment," he said.
Saifuddin Nasution said the monitoring also involved pricing officers, KPDNHEP partners and other government agencies as well as involvement of village heads, apart from complaints from the public.
He added that customers can lodge their complaints through the portal or e-mail at e-aduan@kpdnhep.gov.my or call 1800 886 800, the smart phone application at Ez ADU or the Malaysian Government Call Centre (MYGCC) 03-8000 8000.
At the function, Saifuddin Nasution said eight business premises in the east coast were recognised for meeting the criteria set by the ministry. They included three premises each in Pahang and Terengganu and two in Kelantan.
It was accorded to businesses that carried out their trade ethically in accordance with the regulations set by the ministry.
-- BERNAMA