New life for injured gentle giants in Kuala Gandah

Last Update: 17/10/2019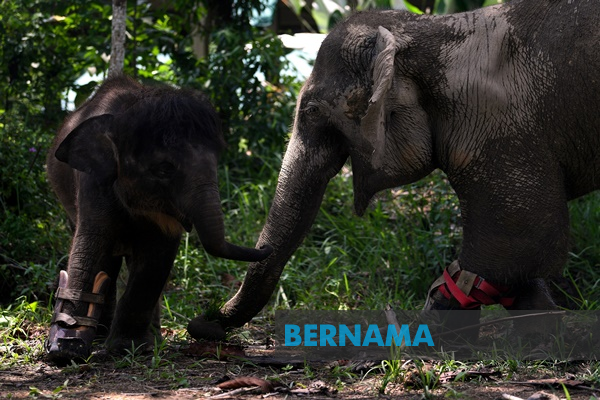 TEMERLOH, Oct 17 -- Selendang, Sanum and Elly are three young elephants with a new lease of life after they were nursed to health at the Kuala Gandah National Elephant Conservation Centre (PKGK) in Lanchang here.
PKGK Senior Wildlife Assistant, Saudi Sidek, 59, said these three pachyderms arrived with injuries in critical conditions without much hope for survival.
For instance, Sanum, now a 16-year-old, arrived with injuries from a tiger attack, while 16-year old Selendang and three-year-old Elly both lost one of their forelegs when they were caught in hunters' wire traps.
"Selendang lost her left leg, while Elly lost her right leg. Their legs were amputated by wire snares and could not be saved," Saudi told Bernama when met at the PKGK here.
Selendang, discovered in August 2010, was their first case of an amputated baby elephant. Hence, the situation was quite difficult for the centre.
"We were looking for ways to create a prosthetic leg for her. Her current physical built is quite different from ordinary elephants because much of her weight was on her front right foot," he added.
For the record, the PKGK was established in 1989 by the Department of Wildlife and National Parks (Perhilitan) and currently houses 32 elephants aged between three and 82.
The resident elephants are 'denak' (tamers) elephants - who played a significant role in wild elephants translocation programme - and for educational purposes as well as 'special needs' elephants.
They were placed under the care of 80 workers including eight people from Che Wong Orang Asli community.
On Selendang, Saudi said she was only a two-year-old when she was found near a jungle in Felda Selendang in Rompin. She was very much traumatised, making it difficult for them to clean her wound which took almost a year to heal.
He explained that it is difficult for elephants to 'trust human' because it is their natural instinct as wildlife and even if the pachyderm is very young, its strength should not be underestimated and it could turn aggressive.
Meanwhile, Saudi explained, Elly, discovered in Jeli, Kelantan, was more 'fortunate' because the centre was more prepared from the experience of nursing Selendang, so they could immediately make a prosthetic leg for Elly.
Saudi explained that elephant prosthetic leg is expensive and the centre is very grateful for the corporate donations who help to fund it.
"One prosthetic leg can reach up to a few thousand ringgit and it has to be replaced every six months because they grow bigger with age. Unlike Selendang, Elly seems more comfortable with her prosthetic leg.
"Perhaps, this was because Elly was much younger when she was fitted with her first prosthetic leg, but Selendang is quite cheeky, when she thinks no one is watching, she would remove her prosthetic foot," he said.
Saudi who has been tending the elephants since the 1980s said that Sanum is easy to recognise because she is the only elephant in PKGK without a tail.
He said Sanum was found with injuries on 80 percent of his body from tiger attack and despite her severe conditions, she manages to escape the attack by entering an Orang Asli settlement in Sungai Siput, Perak.
"We thought she could not survive... her tail was almost broken that we had to cut it off.
"When we first nurse her, she was so aggressive that we had to confine her. The medication needs to be applied every day on almost her entire body.
"Fortunately she was very young, so the wounds did not leave any scars. Sanum is also known as a hero for being able to survive. From an aggressive baby elephant, she has grown up to be a gentle giant who likes visitors," he said.
-- BERNAMA