UPSI holding exhibition on Royal Institution

Last Update: 17/10/2019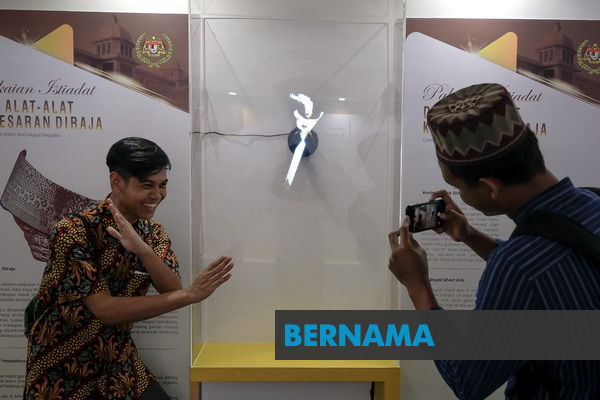 TANJUNG MALIM, Oct 17 – The 'Malaysia's Royal Institution' exhibition aimed at promoting respect and appreciation for history was opened to the public today at Muzium Pendidikan Nasional, Universiti Pendidikan Sultan Idris (UPSI).
UPSI vice-chancellor, Prof Datuk Dr Mohammad Shatar Sabran, said he is proud the exhibition is being held in a state the university has called home since 1922, and that it will especially benefit Muallim district residents.
Sited at the Sultan Abdul Jalil Shah campus, it was launched by Perak ruler, Sultan Nazrin Shah, with the ceremony witnessed by Raja Permaisuri Perak, Tuanku Zara Salim, Perak Menteri Besar, Datuk Seri Ahmad Faizal Azumu, and state executive councillors.
"Before Merdeka, the rights of the rakyat were guaranteed through an agreement by the rulers and the formation of a durbar, later known as the Council of Rulers.
"The idea for the exhibition came from the UPSI board of directors to expose the people to the constitutional monarchy system which was introduced after Merdeka," said Mohammad Shatar in his speech.
There was also the book launch of 'Awang Had Salleh: Legenda Pendidikan Global Malaysia' written by Prof Emeritus Datuk Dr Mohd Yusof Hassan today, as well as the inauguration of a two-day seminar on the Perak sultanate themed 'Raja Payung Negara, Penaung Rakyat Jelata'.
The exhibition in collaboration with National Archives Malaysia and the Department of Museums, Malaysia, and of indefinite duration, covers seven topics, including The History of the Royal Institution, The Constitutional Monarchy, Yang di-Pertuan Agong Selection and Election, Yang di-Pertuan Agong Installation, Royal Regalia of Yang di-Pertuan Agong and The Perak Royal Institution.
-- BERNAMA