Whirlwind wreak havoc in three villages in Jitra

Last Update: 20/10/2019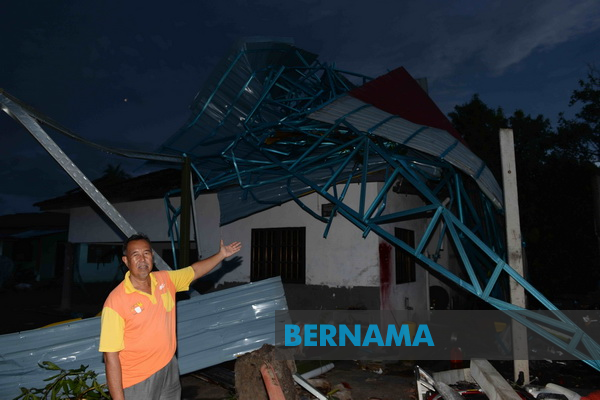 JITRA, Oct 20 -- Approximately 20 houses in three villages in Mukim Jeram, Tunjang, here were damaged after they were hit by a whirlwind this afternoon.
The villages were Kampung Pida 4 Deli, Kampung Permatang Keriang and Kampung Gurindam.
Head of Kubang Pasu Disaster Management Committee Secretariat, Capt Kamalruzamal Kasa said the most roofs of the affected houses were blown away by the whirlwind, which also caused severe damage to the house structures.
A resident, Nurul Fahana Shahidan, 30, said she was watching the television, while her one-year-old son Muhammad Ainol Farhan Mohd Azmi was sleeping in his crib when the strong wind blew off the roof of their house.
"It happened in the blink of an eye. Thank God I managed to grab my son and bring him to safety before the ceiling collapsed and almost hit us," she said.
Another resident, Fatimah Salam said she was in the bathroom and rushed out when she heard the sound of strong wind outside.
She said she and her two children managed to get out before the roofs of their house were flown 50-metre away towards the nearby padi field.
Meanwhile, Kedah Menteri Besar Datuk Seri Mukhriz Mahathir when visiting the victims also presented early assistance to alleviate their burdens.
"After this, there will be other aid and assistance for the victims from the Kedah Zakat Board and the Social Welfare Department. I have also asked the relevant parties to assess the damage so that repair work can be done," he said.
-- BERNAMA