Challenges faced by traditional Malay wood craftsmen in the modern era

Last Update: 22/10/2019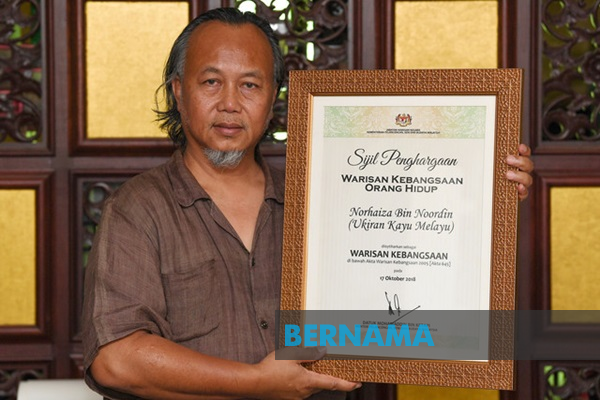 BESUT, Oct 22 -- "There were times when the art of traditional Malay woodcarving was the pride of the wood craftsmen, but now they have to abide by the changes and market demand for simpler and modern patterns."
This was lamented by the president of Malaysia Wood Carvers Art Enthusiasts Association, Norhaiza Nordin, 56. He also said that this situation had made it difficult for woodcarvers to express their artworks as freely as the carvers of the 80s and 90s.
"For example, when we receive an order to carve a wooden door, we as Malay art enthusiasts would like to produce traditional Malay art motifs as each pattern or symbol has its own meaning.
"However, we have to meet the requirement of the client such as the consultant and architect who wants Middle Eastern or modern element. Here, the function of the woodcarver is only as a 'machine' who prepares the order using patterns as directed," he told Bernama when met at his workshop in Kampung Raja, here.
The Sultan Mizan Royal Foundation wood carving mentor also admitted that to create an authentic Malay carving art is complex.
In fact, he said, if the engraving was done whole-heartedly, the motif created would seem alive and even could 'interact' with those who see it.
"Nowadays not many people could produce such engravings. Indeed, there are many new carvers produced by skills institutes but not everyone can carve the actual Malay wood carving art," he said.
Apart from that, he added, local wood-carving products need to compete with imported products from neighbouring countries which produced current designs with more affordable prices.
Norhaiza who hails from Besut said another challenge is when there are quarters who try to bring in wood craftsmen from neighbouring countries such as Indonesia to guide the local carvers.
Nonetheless, Norhaiza admitted that local woodcarvers took more time to complete a product compared to Indonesian carvers.
"For instance, an Indonesian carver could complete four items while ours could only manage to complete one item in the same period of time. If we want to learn from them (the Indonesians), we should be learning on how to work quicker instead of them teaching us to carve their motives," he said.
In protecting the work of local wood craftsmen, he proposed a specific act for them and their creations.
"There is no specific law to protect them, so their creations are often plagiarised and manipulated by irresponsible parties. The number of Malay art wood craftsmen is already small and yet their creations are often stolen," he said.
Norhaiza also hoped that the government could open up more opportunities for them to restore the glory of Malay woodcraft.
"For instance, the government offices could use the wooden door with Malay art cravings. This indirectly could provide job opportunities to local carvers," he said.
-- BERNAMA