Traders in Kedah found flouting price control scheme

Last Update: 23/10/2019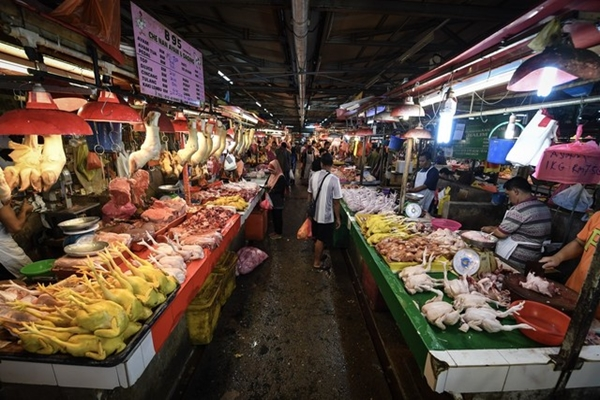 ALOR SETAR, Oct 22 -- A few chicken and vegetable traders were found selling perishable goods at prices much higher than the ceiling prices set under the Deepavali Festive Season Price Control Scheme.
A check at the Simpang Kuala day market here today found that vendors were selling chickens at RM8 to RM8.50 per kg for retail price instead of RM7.30 as fixed.
A vendor Ibrahim Murad, 62, said he was aware of the price control scheme but had no choice but to sell the chickens at RM8 a kg to cover operating costs especially during the rainy season.
"Initially I was selling them at RM8.50 per kg and after the price control I lowered it to RM8 so as not to burden consumers celebrating Deepavali next week. However with the rainy season sales dropped and I could only sell 30 birds compared to 60 previously," he said when met today.
He said by doing so he was able to make a small profit after buying the chickens at about RM6 a kg from the suppliers.
The continuous rain since last week has resulted in price of vegetables from suppliers to go higher than previously, said vegetable seller Musa Md Noh, 54.
"Before this we could get lady's fingers from suppliers at RM3 per kg but they went up to RM4.50 per kg. According to the suppliers the rainy spell has resulted in a shortage so I sell them as well as tomatoes at RM6 per kg to earn a little profit," he said.
Meanwhile, Domestic Trade and Consumer Affairs Ministry Kedah branch director Mohammad Fitri Hassan said he was aware of the matter and would be monitoring the situation to ensure no profiteering among traders.
"I call on traders to abide by the festivity price rules as they were implemented to protect consumers and all stakeholders have discussed and agreed on the prices as set," he said when contacted here today.
The 2019 Deepavali Festive Season Price Control Scheme involving 19 items, commenced last Saturday and will be carried out for 14 days.
In GEORGE TOWN, State International Trade, Consumer Affairs and Entrepreneurship Development Committee chairman Datuk Abdul Halim Hussain said most of the 19 items listed under the Festive Season Price Control Scheme were sold at prices below the maximum price allowed.
"So far there is sufficient supply of goods so consumers need not worry. In fact most of the goods are sold much cheaper than the prices set under the price control scheme," he told reporters while conducting checks at Air Itam near here.
He advised consumers to be alert and to report to the authorities if they come across traders not displaying pink price tags especially for the 19 listed items.
"Traders who do not comply by the price control scheme can be fined up to RM10,000 or compounded up to RM5,000 while companies can face a maximum fine of RM20,000 or RM10,000 in compounds," he said.
-- BERNAMA