Fire crackers trigger fire at Chendering fishermen's fuel sale centre

Last Update: 24/10/2019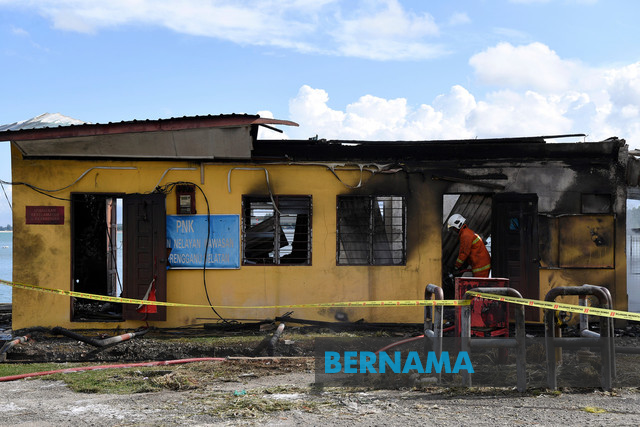 KUALA TERENGGANU, Oct 24 -- A fishing boat fuel sale centre at the Fisheries Development Authority of Malaysia (FDAM) facility here caught fire, believed to be due to the action of several Vietnamese fishermen who were playing with fire crackers.
Terengganu FDAM director Tengku Anuar Tengku Mahmood said the fire destroyed five pipes channeling diesel at the centre and causing a loss of RM150,000 in the incident at 3 pm.
He said the fire was believed to have started at a pipe in one of the buildings at the centre and spread to the pipes outside the building.
''I was in my office which is near the scene of the fire. The fire was burning strongly when I arrived at the scene. I was informed that several Vietnamese fishermen were playing with fire crackers nearby and there was an explosion,'' he told reporters when met at the scene here today.
Tengku Mohd Anuar said the fast action of the workers there in shutting down the pipe to the main fuel storage tank saved 40,000 litres of fuel and prevented a much bigger fire.
He said the fire had adversely affected about 1,600 fishermen from South Kuala Terengganu and Marang who received their supply of diesel at the centre.
Asked on the Vietnamese fishermen who played with the firecrackers, Tengku Mohd Anuar said FDAM had identified the name and registration number of the Vietnamese fishermen's boat and action would be taken as soon as possible.
Meanwhile, Kuala Terengganu Fire and Rescue Department chief Rozizah Abdi Hajar said the department received a call on the fire at 3 pm.
She said 22 firemen from Kuala Terengganu and Marang who were rushed to the scene, with two fire engines and a water tanker, managed to put out the fire in one hour.
''Two explosions took place when we were putting out the fire due to overheated fuel and broken fuel pipes,'' she said, adding there was no injury or loss of life.
-- BERNAMA