Belalang Padi, a rare delicacy in Kuala Besut market

Last Update: 26/10/2019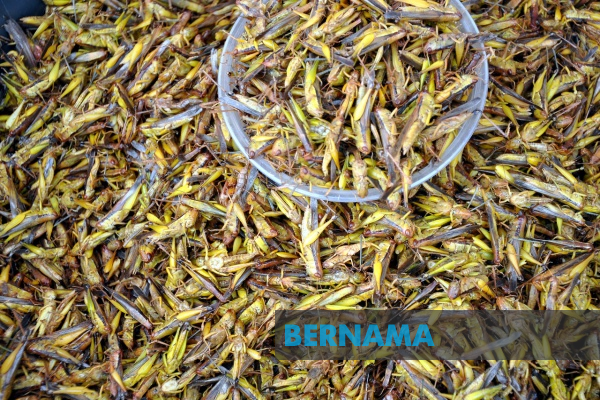 JERTIH, Oct 26 -- It might sound unusual but the local grasshopper known as Belalang Padi is a rare delicacy favoured by many and it could be priced at RM70 per kilogramme.
An elderly couple, Muhammad Salleh, 64, and Azizah Mat Jusoh, 59, who make a living by selling the cooked grasshopper, also known as Belalang Perah, said the small insect is much in demand and it could be sold out in under two hours.
"Some of these grasshoppers I caught on my own while some are purchased from locals who caught them in Kampung Padang Pak Amat in Pasir Putih, Kelantan. I need to make sure that I always have enough supply so that I could sell it in the Kuala Besut farmers market every Friday and Monday.
"We sell the grasshoppers at RM10 per 100 grammes or RM70 per kilogramme," he told Bernama when met at the market yesterday.
Muhammad, who has been in this business since September, also said that the grasshoppers can be found in large quantities in a field of Rumput Menerong, a type of nutgrass weed species or in the paddy field especially after rain.
He explained that he usually trapped the insect between 8pm and 12 midnight, either by catching it one by one or by spreading a net made from a gunny sack.
"Once caught, the grasshoppers will be soaked and then briefly stir-fried until its green colour turns red before it is ready for sale. Before cooking, the grasshoppers need to be cleaned again.
"To clean it, you just need to remove its wings and feet. Then it can be cooked to your liking as Rendang, Kerutuk or simply fried with turmeric and salt," he said.
According to him, a grasshopper dish is best paired with rice or glutinous rice.
Che Ismail Rajab, 63, a fan of rare local delicacies, said grasshopper is an all-time favourite food from long ago but is now seasonal and rarely available.
"In the past, the grasshopper was among the main food sources because there was not much variety of food available. Now, foods like this are not ordinarily encountered except in some places," he explained.
Meanwhile, Fazira Wahida Jaiz, 26, was very excited to see the grasshopper sold by the couple and repeatedly ask to clarify if it is indeed grasshopper and if it is edible.
She then snapped and uploaded the picture of her first encounter of the delicacy on her social site, which later attracted many netizens with questions on the location of the market.
-- BERNAMA