Rantau Panjang residents busy preparing for monsoon

Last Update: 27/10/2019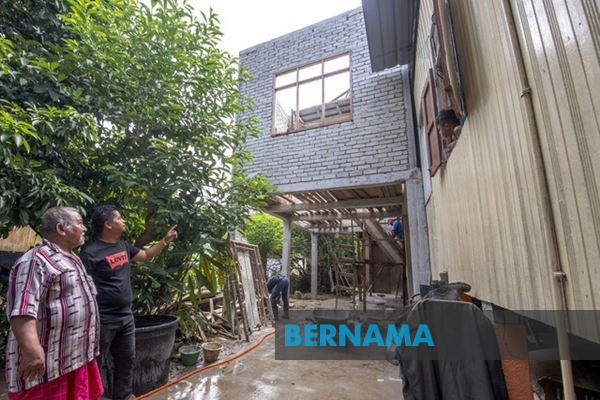 PASIR MAS, Oct 27 -- The monsoon season that often hits the east coast especially in Kelantan at the end of the year is a nightmare for the people who are often affected by the disaster.
Concerned about the possible damage to the property, a resident Ismail Salleh, 74, from Kampung Terusan in Rantau Panjang here, spent RM40,000 to build an additional strong room in his home to store valuable possessions when floodwaters begin to overflow Sungai Golok.
"The construction of this additional room is a long-term preparation for the monsoon season. It was built at a height of over three metres and hoped to keep goods safe.
"Previously, my home was constantly flooded during the monsoon season and damaged many electrical items and furniture. I hope this time the flood will no longer be able to seep through the newly built area," he told Bernama here today.
Meanwhile, his son, Mohd Nizam, 40, said the village, which is home to 50 other families, was often faced with stagnant flood water that took a while to subside.
He said in order to resolve the matter, residents would usually build mini bridges to connect the houses to the main road.
"These mini bridges are usually made of long bamboo poles and installed from the stairs to ease homeowners, who do not move to temporary evacuation centres, to purchase essential items especially when 'stagnant flood water' occurs.
"Other residents bought rowboats or fibre boats to commute. Vehicles such as motorcycles and cars were also kept in high places," he said.
Another resident, Mohd Izariq Affendi Mohd Nawi, 19, said every resident had boats or rowboats in preparation.
He said all boats were usually kept under the house and would only be used when the flood water reached the knee level.
"Whenever the floods hit, boats become the main transport.
"In my case, this boat was used by my grandfather and now I am the third generation using it," he said.
He said although the monsoon season is just starting, preliminary preparations had to be made as the area would be flooded in no time as it is located in the lowland, with the Sungai Golok River just 40 metres away from their village.
-- BERNAMA