Close high-risked recreational spots during monsoon season - Fire Dept

Last Update: 29/10/2019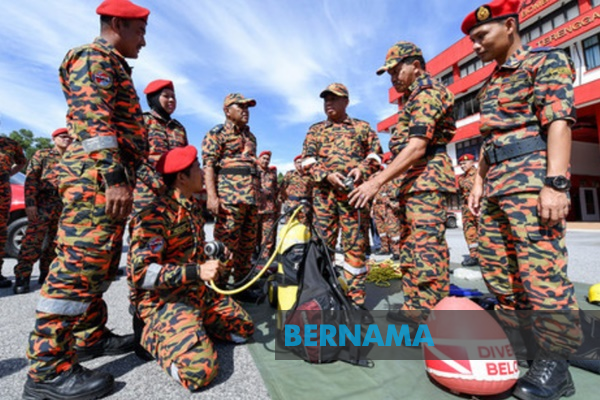 KUALA TERENGGANU, Oct 29 -- Local authorities (PBT) should shut down high-risk recreational areas including waterfalls, mountains and beaches from public access, during monsoon season.
Fire and Rescue Department (JBPM) Rescue Team Management Branch head Assistant Commissioner Mohd Zahar Abdullah said this was to prevent any untoward incidents.
He said despite warnings issued by the authorities, there are still a number of stubborn people who visit such leisure activity spots during the monsoon season without regard to personal and family safety.
"I urge all local authorities, the private sector and the forestry department to temporarily halt activities such as picnics, hill climbing or bathing in their respective areas because of the inherent dangers.
"It is best to prevent because in case of drowning, it would be difficult for the rescue team to enter the respective areas due to weather, floods as well as strong current," he told reporters at a special media conference on the Terengganu flood preparations at the Kuala Terengganu Fire and Rescue Station (BBP), today.
Also present was Terengganu JBPM director Mohamad Shoki Hamzah.
Meanwhile, Mohamad Shoki said his department had identified 178 locations across the state which are exposed to threats of flooding beginning in mid-November.
They include 27 locations in Marang, Besut (30 locations), Setiu (21 locations), Dungun (32 locations), Kemaman (39 locations) and Hulu Terengganu (29 locations). They were located in either low land, densely populated housing areas or had poor drainage system.
"We have 795 personnel and firefighters ready to be deployed during the flood season. This does not include the participation of 378 volunteer firefighters who are also on standby.
"In terms of asset and logistics preparation, we have no problems as we have 41 boats and 94 vehicles which can be used for evacuation and rescue purposes," he said.
At the same time, Mohamad Shoki also reminded residents in flood risk areas to be ready to move when instructed and identify their essential items or documents to carry.
He said the move would make it easier for rescue members to carry out evacuation and rescue work especially when it involves large numbers.
"When there are many victims, things get a little chaotic because rescuers have to figure out what is priority.
"This will be a challenge for the rescue team especially at night because we do not know the water currents and the boat may be trapped in the situation," he said.
He added that firefighters had also completed inspection of 568 flood evacuation centres throughout the state to ensure all aspects of safety were complied with.
In addition, all logistics equipment are also housed in remote areas to facilitate the evacuation of residents when the monsoon season starts.
-- BERNAMA