Kedah Information Dept helps B40 households install decoders free of charge

Last Update: 30/10/2019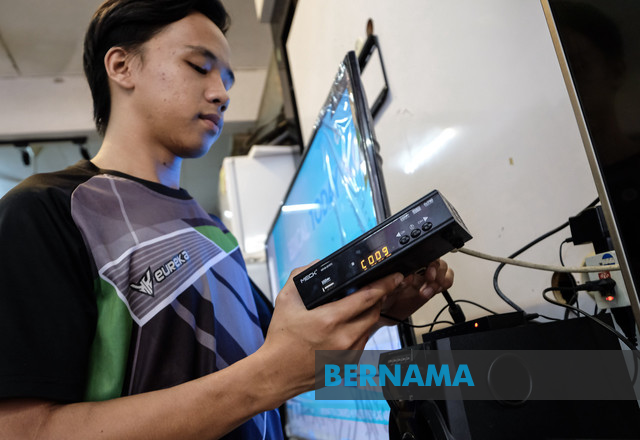 YAN, Oct 30 -- The Kedah Information Department has taken the initiative to form a special team to install decoders for digital TV broadcast free of charge for low-income households (B40) who do not know how to install the gadgets in their homes.
The department's Communications and Community Development assistant director, Normah Ramli said currently the volunteers consisted of five technical staff of the department.
"The Kedah Information Department's volunteers task force has been around for a long time but the special volunteers to install decoders were inspired when some villagers in their village sought their help to install a decoder," she said.
She told this to reporters while accompanying a group of volunteers who were installing a decoder at the home of a senior citizen, Rokiah Ismail, 70, in Kampung Pauh here today. Also present was Malaysian Communications and Multimedia Commission (MCMC) Kedah office head, Mohd Faizal Azizan.
Normah said the approach was an effort by the department to help alleviate the burden of the needy, including single mothers and senior citizens who would no longer have to spend on decoder installation services.
She said the volunteers would continue to set all the digital TV channels after the decoder was installed, making it easier for them to watch television.
"If anyone from the B40 group still do not know how to install these decoders they can contact or come to their respective District Information Office to request assistance from these volunteers to install the decoder in their homes," she said.
Meanwhile, Mohd Faizal said it was a good effort by the Kedah Information Department to help the poor save the cost of installing decoders.
He said 178,700 decoders were distributed free of charge to recipients of 'Bantuan Sara Hidup' in Kedah.
-- BERNAMA