Monsoon season: Resorts, chalets in Terengganu halt operations

Last Update: 31/10/2019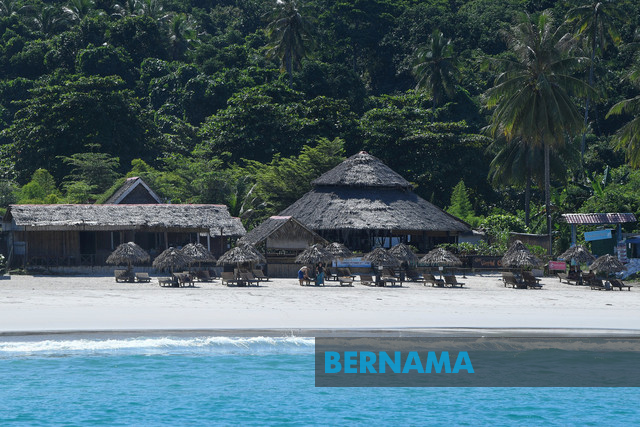 JERTIH, Oct 31 -- Resort islands around Terengganu appear to be deserted following the closure of resort centres and chalets in stages since the middle of this month due to the monsoon season that is expected to hit the east coast soon.
A Bernama survey with the Terengganu Marine Park Department team to Pulau Perhentian found that the average resort and chalets operators have begun to halt their operation and were actively preparing and moving things to safer locations for the temporary closure.
Now, only workers and resort operators are left on the islands to monitor the surrounding environment throughout the monsoon season, and the period will also enable the operators to do upgrading works on their premises.
An operator of a resort in Pulau Perhentian, Masron Mustafa, 40, said the closure was also a step in responding to the state government's proposal to ensure the safety of tourists.
He said it has become an annual routine for them to temporarily close the resorts from October to February and open again fully in March.
"I've closed the resort temporarily since mid-October. It is understood that there are still other chalet operators who are still operating and will be closing at the beginning of November, while some are said to be operating until the end of the year.
"During the monsoon season unpredictable waves can pose a threat to tourists' safety and activities are also very limited compared to normal days," he said when contacted by Bernama here today.
The boat services would also not operate as usual and this would make it difficult for tourists to get to the islands.
Asked about the risks that often occur on Pulau Perhentian, he said that conditions are usually under control because the island is protected from strong winds by hills that prevent the wind from reaching the resort area.
In fact, he said the damages experienced was not as bad as other resorts such as in Pulau Kapas.
This was acknowledged by a resort operator on Pulau Kapas, Hawa Abdul Rahman, 58, because over the past several years she had suffered losses due to the monsoons and had to spend more than RM 1 million for repairs.
She said the impact of waves and strong winds not only blew off roofs but also damaged other equipment.
Meanwhile, based on information obtained from the Terengganu Tourism Department, all the resorts on Pulau Perhentian have been closed since October except for four, namely Sharila Perhentian Resort, Coral View Resort, D'Rock Garden Resort and Aina Ohana, which will operate throughout the year.
Whereas in Pulau Redang and Pulau Kapas, today is the last day most of the resorts will be operating while in Pulau Tenggol, they will closes at the end of next month.
-- BERNAMA