PGA8 seize RM2.4 million worth of cigarettes in Tumpat

Last Update: 02/11/2019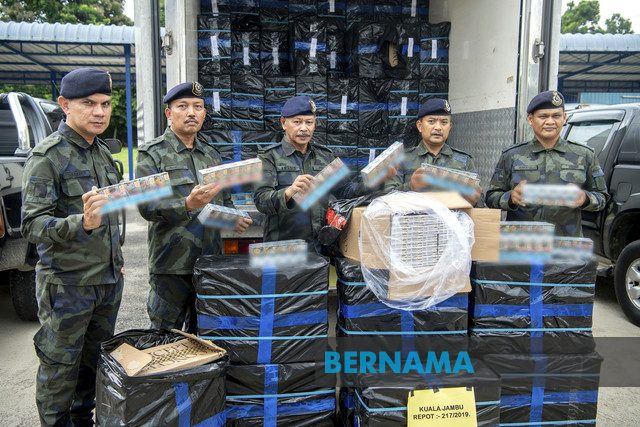 PASIR MAS, Nov 2 -- A total 8,000 cartons of white cigarettes worth RM2.4 million including tax were seized by a team from the Eighth Battalion of the General Operations Force (PGA8) in a raid on an illegal jetty near Kuala Jambu, Tumpat, 24 km from here, early this morning.
PGA8 assistant commanding officer DSP Ab Aziz Che Embong said the team had conducted a surveillance and saw several men transferring boxes to a lorry on the bank of Sungai Golok in the raid at 4 am.
He said the men quickly ran off leaving the lorry at the scene when they were approached by the PGA8 team.
''We found 160 large boxes containing 8,000 cartons of the Concept brand of cigarettes after inspecting the lorry and the surrounding area.
''All the cigarettes and lorry worth RM80,000 were taken back to our headquarters for further action,'' he told a media conference at the Lubuk Setol PGA Tactical Headquarters here today.
He said the cigarettes were believed to have been brought in through a neighbouring country and intended for the local markets other than in Kelantan.
In the same development, Ab Aziz said, PGA8 had seized goods worth RM3.5 million since taking over the Ops Wawasan duty in Oct 15.
During the same period, he said 30 individuals were also detained encompassing various cross-border offences including narcotics, controlled items, livestock and human trafficking.
''PGA wants the local communities along Sungai Golok to channel information on cross border crimes and smuggling activities to the authorities.
''Cross-border crimes will continue to be tackled with the co-operation of numerous other agencies on the border starting from Rantau Panjang to Pengkalan Kubur,'' he added.
-- BERNAMA