Parents of young heart patient appeal for donations

Last Update: 02/11/2019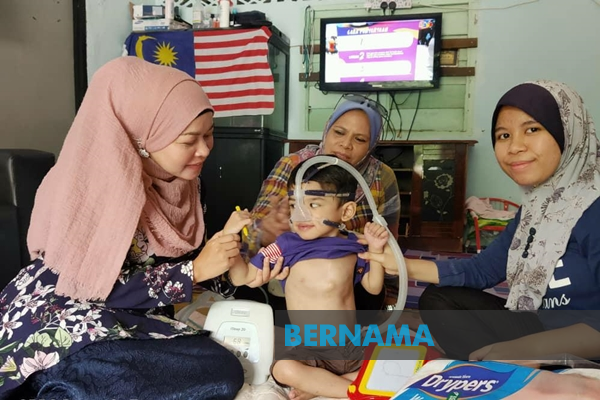 PADANG TERAP, Nov 2 -- A young mother from Kuala Nerang near here is seeking assistance from the public to buy a new set of pacemaker batteries used by her five-year-old son who is suffering from complex heart disease shortly after birth.
Annur Syakirah Mahazir, 23, said the batteries were defective almost 11 months ago, restricting Muhammad Rayyan Mikail Mohd Yazid's movement as he was suffering from various heart problems including leaky heart valve and hole in the heart as well as chronic lung problems.
"He relies on this device daily especially when sleeping, though he will take it off whenever he wants to play. But he is totally dependent on the machine. Even this device was purchased using money donated by the public," she told Bernama today.
Annur Syakirah said they could not afford to buy the new batteries, costing RM4,500, as her husband Mohd Yazid Lazim, 28, who worked as a rubber tapper with unstable income while she had to stay at home to look after Muhammad Rayyan Mikail.
She said currently they only received RM350 a month from the Social Welfare Department.
She said her husband, who is also a disabled person (OKU) card holder after an accident left him blind in one eye, not only had to spend about RM1,100 to buy special milk for Muhammad Rayyan Mikail, but other necessities as well such as disposable diapers and expenses to commute to the Sultanah Bahiyah Hospital (HSB) five to six times a month, for follow-up visits.
Hence, she was appealing for public assistance so that they could provide for Muhammad Rayyan Mikail such as buying special milk and disposable diapers for him.
People who wish to help can do so via Annur Syakirah BSN account (0211341100006135) or to call her at 013-8610858.
-- BERNAMA