Floods: Terengganu Health Dept to mobilise 678 personnel

Last Update: 04/11/2019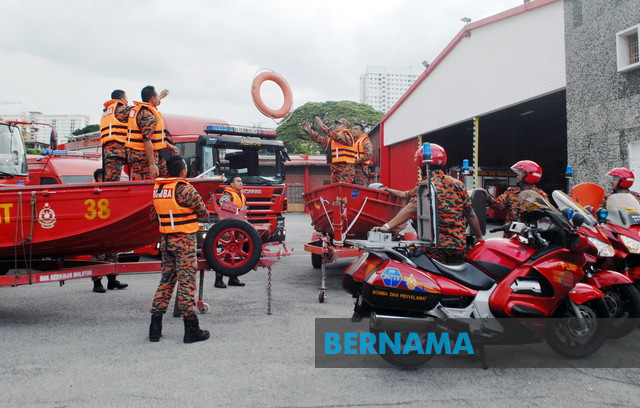 MARANG, Nov 4 -- A total of 678 health and medical personnel from the Terengganu Health Department will be mobilised to temporary relief centres in the state during the monsoon season.
State Health director Dr Mohd Jusoh said of the total, 378 personnel were from 71 medical teams, while 300 were from 72 health teams.
"The medical team will provide health screening services and treatment for evacuees in need, where static clinics would be set up at temporary relief centres accommodating more than 1,000 evacuees and will operate on a regular basis.
"The health team will conduct disease prevention and control activities, to monitor, detect and control the outbreak of infectious diseases caused by the floods," he told reporters after opening the state-level 2019 World Mental Health, Diabetes and Heart Day celebration here today.
The Meteorological Department has forecast that Terengganu will receive four to six episodes of heavy rainfall with strong winds from late October until March next year.
He said the department had also made sure there would be sufficient medical supplies and hospitals have also been prepared to receive evacuees who need further treatment.
"For volunteers at the relief centres, they have been given courses and training, especially on the health care of flood evacuees at the centre.
"The Food Quality and Hygiene Division is also vaccinating volunteers involved in food preparation and handling at the relief centres," he added.
Out of 1,041 food handlers, 575 were vaccinated last year, 84 this year and the remaining 355 will be given the vaccination soon.
He advised pregnant women who are due to give birth during the monsoon season and staying in flood-prone areas, as well as those living in Pulau Redang and Pulau Perhentian to move to relatives' houses near to a hospital.
-- BERNAMA