Scholar's yearning for Al-Aqsa Mosque eases in Terengganu

Last Update: 12/11/2019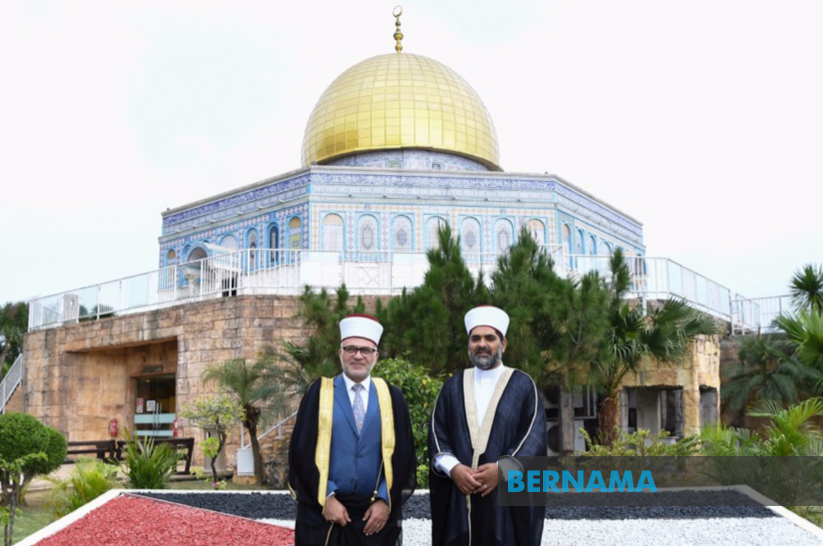 KUALA TERENGGANU, Nov 12 -- The longing of Sheikh Atta Muhammad Faiz Atta Al-Muhtasib for the Masjid Al-Aqsa Mosque in Jerusalem, which he had not visited for 20 years, was somewhat mollified when he visited the replica of the mosque at the Islamic Civilisation Park here today.
The Imam and Khatib at the Prophet Ibrahim Mosque in Hebron, Palestine also shed tears, saying despite his house being located only 35 kilometres (km) from the Al-Aqsa Mosque, he had been barred from entering the third most holy mosque of Islam since 20 years ago.
''No single sentence can express my feeling of being overwhelmed because on Palestine soil itself I cannot step foot in the Al-Aqsa Mosque but here I can see it despite it only being a replica,'' he said when visiting the replica of the Dome of the Rock found in the replica of the mosque.
He said this in the Arabic Language which was translated into Bahasa Melayu by Terengganu Strategic and Integrity Institute deputy chief executive officer 11, Mohd Kamal Nazmi Kamaruddin.
However, Sheikh Atta Muhammad Faiz, who is also the Palestine Syariah High Court Judge, would not give up and aspired to step foot in the Al-Aqsa Mosque one day.
Meanwhile, Al-Aqsa Mosque Chief Imam and Director Sheikh Omar Fahmi Awadallah al-Kiswani who also participated in the visit was astounded and shocked because the replica of the mosque was constructed like the real Al-Aqsa Mosque.
''It is a shock to me. The mini dome, the carvings and building construction are almost the same as the Al-Aqsa Mosque. It symbolises the people of Malaysia who are so concerned with the issues linked to Palestine.
''It also expresses the love of the Malaysian people for the people of Palestine because the construction of the replica is very detailed and almost 100 per cent like the Al-Aqsa Mosque,'' he added.
While expressing his appreciation to Malaysia for building such a place, he also urged Muslims in the country to visit the Al-Aqsa Mosque to demonstrate their love for the mosque.
-- BERNAMA