Sultan Nazrin officiates Perak International Expo 2019

Last Update: 14/11/2019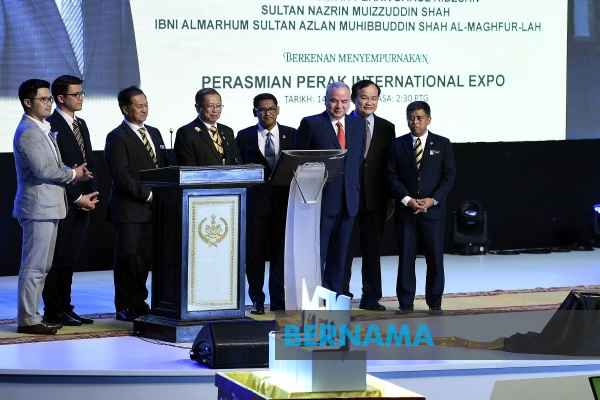 IPOH, Nov 14 -- The Sultan of Perak Sultan Nazrin Shah today officiated the Perak International Expo (PIEX 2019) at the Indera Mulia Stadium here.
After delivering his opening address, His Royal Highness, accompanied by Perak Menteri Besar Datuk Seri Ahmad Faizal Azumu took the opportunity to visit the participating booths.
The four-day event beginning today was participated by 400 exhibitors comprising investors from local and international companies including India and Bangladesh.
Also present were State Industry, Investment and Regional Development Committee chairman Datuk Seri Ir Mohammad Nizar Jamaluddin and other state executive council members.
There are four component events running parallel to PIEX 2019, which are the Pangkor International Development Dialogue, the Perak Start-up Festival, the Pride of Perak (POP) Showcase and the Perak International Halal Expo.
Earlier, Ahmad Faizal in his speech said PIEX 2019 was timely as it reflected the aspirations of the state leadership to put Perak on the global industry map as well as creating global access for the local small and medium enterprises (SMEs).
Carrying the theme 'Offering Infinite Possibilities To The World', he said PIEX was an important platform to demonstrate the state government's seriousness in tapping into the ever-evolving industrial revolution.
"The state government is working hard towards transforming Perak into becoming a new age economic hub, where talent and resources need to be combined with innovative ideas to attract global investors.
"I also believe that Perak has great potential (to become like) Jack Ma's Ali Baba. All they need is a platform and therefore, the state government must play its crucial role as a facilitator in finding and empowering the right investors," he said.
As such, Ahmad Faizal said enhancing the delivery system was a priority for the state government as speed and transparency were important elements to attract investors.
"I am a big believer in the fast track system, and wherever possible, red tape issues will be addressed and minimised so that investors will have a seamless experience," he said.
He also hoped that PIEX 2019 could play an important role in creating opportunities for economic and trade collaborations with the right investors, thus paving the way for local entrepreneurs to tap into the global market.
PIEX 2019 is co-organised by Invest Perak and the Perak Chinese Chamber of Commerce in collaboration with the Malaysia Chamber of Commerce, the National Chambers of Commerce and Industry of Malaysia, the Malaysia International Chamber of Commerce and Industry and the Federation of Malaysian Manufacturers (Perak).
-- BERNAMA