Terengganu Royal couple grace tea reception at UMT

Last Update: 15/11/2019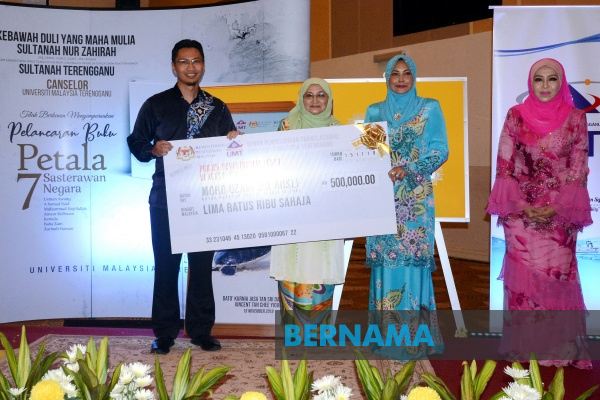 KUALA NERUS, Nov 15 -- The Sultan of Terengganu, Sultan Mizan Zainal Abidin today attended a tea reception held in conjunction with Universiti Malaysia Terengganu's (UMT) 17th convocation ceremony set to commence tomorrow.
Sultan Mizan was accompanied by the Sultanah of Terengganu, Sultanah Nur Zahirah who is UMT Chancellor.
Also present were Menteri Besar Datuk Seri Dr Ahmad Samsuri Mokhtar and UMT Vice-Chancellor Prof Datuk Dr Nor Aienie Mokhtar.
At the two-hour event, Sultanah Nur Zahirah launched the book Petala 7 Sasterawan Negara published by UMT Publisher.
Guests were entertained to a poem recital by four national laureates, Datuk Seri A Samad Said, Prof Emeritus Muhammad Salleh, Datuk Dr Anwar Ridhwan and Datuk Dr Zurinah Hassan who were specially invited to the event.
Nor Aieni said the book Petala 7 Sasterawan Negara is a compilation of 132 poems written by the late Datuk Dr Usman Awang, A Samad Said, Muhammad Salleh, Anwar Ridhwan, Datuk Dr Ahmad Khamal Abdullah (Kemala), Datuk Baharuddin Zaina (Baha Zain) and Zurinah Hassan.
According to her the book to be printed in two versions: coffee table and pocket-sized can be purchased through UMT online bookstore.
"The publication of Petala 7 Sasterawan Negara is a proactive move by UMT in response to Education Minister Dr Maszlee Malik's call for the university community to show their appreciation to national laureates.
"The book will be translated into other languages such as English, German, French and Japanese in an effort to elevate it at the international level," she said adding that the book would also be available in digital form.
-- BERNAMA