Agong wants UMP to look for strategic partners to improve competitiveness

Last Update: 16/11/2019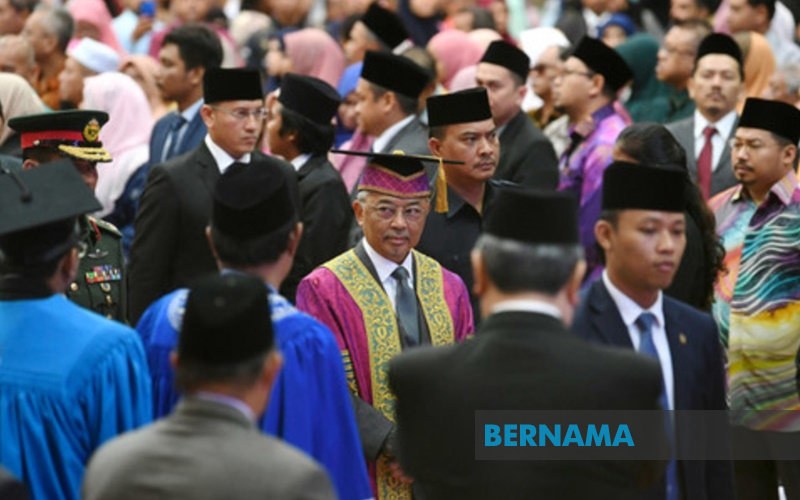 KUANTAN, Nov 16 -- Yang di-Pertuan Agong Al-Sultan Abdullah Ri'ayatuddin Al-Mustafa Billah Shah wants Universiti Malaysia Pahang (UMP) to look for new strategic partners to help enhance its abilities to compete with other universities.
This, he said would increase UMP's capability to generate income to fund its activities and further improve its performance among local higher learning institutions.
At the same time, Al-Sultan Abdullah who is also UMP Chancellor, urged the university to focus on the development of artificial intelligence technology that could help boost the country's economy in the future.
His Majesty also wanted UMP to take a lead in Technical and Vocational Education and Training (TVET), in line with the country's higher education focus.
"I believe close cooperation between UMP and industry players at home and overseas could strengthen further the university's role in producing human capital that could meet both the country' and international's needs," he said.
Al-Sultan Abdullah said that in a royal decree in conjunction with the UMP's 14th convocation ceremony at the Gambang campus here today, which also attended by the university's vice-chancellor Prof. Ir. Dr Wan Azhar Wan Yusoff.
The king also praised the university on its plan to establish UMP Foundation early next year to raise fund which will be utilised to help underprivileged students further their studies.
Meanwhile, Al-Sultan Abdullah advised UMP graduates to use their knowledge and experiences for the betterment of the society as well as looking for opportunities to achieve a greater success in the future.
The king also congratulated his son the Regent of Raja Pahang Tengku Hassanal Ibrahim Alam Shah, who was proclaimed the new UMP Pro-Chancellor along with Tan Sri Abi Musa Asa'ari Mohamed Nor.
However, the proclamation ceremony for Tengku Hassanal will be held later as he is still studying at the Royal Military Academy Sandhurst in the United Kingdom.
This year convocation will see 3,782 UMP graduates receive their scrolls.
-- BERNAMA