Perak Sultan attends Gathering With Rakyat in Gopeng

Last Update: 17/11/2019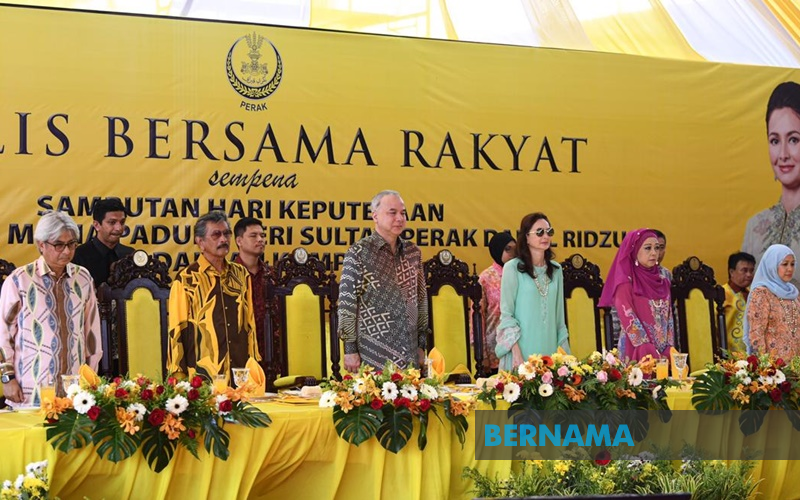 GOPENG, Nov 17 -- The Sultan of Perak Sultan Nazrin Shah today attended a gathering with the people at the Rural Transformation Centre here held in conjunction with his birthday celebrations.
Also present was Raja Permaisuri Perak Tuanku Zara Salim, Raja Muda Perak Raja Jaafar Raja Muda Musa, Raja Puan Besar Perak Raja Nazhatul Shima Sultan Idris Shah, Raja Dihilir Perak Raja Iskandar Dzulkarnain Sultan Idris and Raja Puan Muda Besar Perak Tunku Soraya Sultan Abdul Halim.
Others who were present included Perak Menteri Besar Datuk Seri Ahmad Faizal Azumu and wife Datin Seri Dr Nomee Ashikin Mohd Radzi as well as the state exco.
The gathering which was held in conjunction with Sultan Nazrin's 63rd birthday celebrations on Nov 1 was attended by 2,000 people of all races and religions.
In his speech, Ahmad Faizal said the state government had provided 7,000 affordable housing units under the Rumah PerakKu project while another 11,000 units were being built specially for families in the B40 category.
"In addition, 2,700 families from the Structured Settlements Programme (RPT) have benefited from various infrastructure projects involving an allocation of RM5 million.
"God willing, all these efforts will be continued under the 2020 Perak Budget which was tabled at the State Legislative Assembly sitting last Friday, including increasing the number of recipients for the Kad Perak Prihatin to 20,000 households," he said.
Ahmad Faizal also said Perak recorded an economic growth rate of 5.3 per cent last year while the unemployment rate had dropped.
"This momentum is expected to continue this year, following RM1.72 billion in investments during the first six months this year," he said.
-- BERNAMA