Throwing caution to the wind over cockles

Last Update: 19/11/2019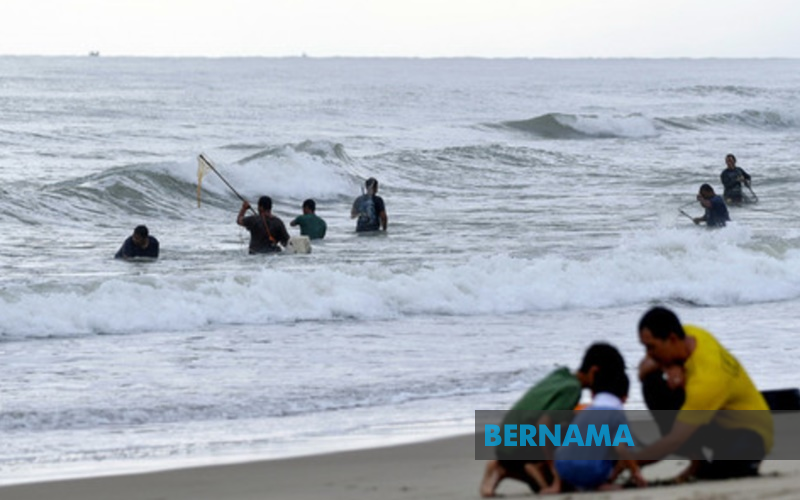 MARANG, Nov 19 -- The people are throwing caution to the wind at Pantai Rhu Dua here.
They are taking no heed of the warning about strong winds and high waves for five days from today off the Terengganu coast as they go about collecting the abundance of hairy cockles that have landed on the beach over the past week.
Bernama found whole families, with young children in tow, gathering the cockles oblivious to the inclement weather.
Mohamad Zulkifli Mohd Rashid, 46, of Kampung Kelulut, said he has been to the beach with his family over the past three days to collect the cockles and sell them to his fellow villagers.
He said the weather today was gloomy but the family collected the cockles because sales have been good.
"Last evening, I spent up to four hours here, and managed to collect 15 kg of cockles. I sold them for RM7 per kg to my fellow villagers and earned about RM100.
"Today, however, the weather is bad and the waves are bigger. The 'harvest' is also poor," he said when approached as he was collecting the cockles.
Mohd Jusoh Ali, 57, of Kampung Rhu Rendang, said he was unaware of the weather warning issued by the Meteorological Department but admitted that it has been raining heavily since last night.
Nevertheless, he said, the worsening weather has not turned away the people because the cockles only emerge during the monsoon season.
"Indeed, it is risky to be on the beach during this season but, as a local, I am used to the rough seas here. It can be dangerous for outsiders who come here with the young children and bathe in the sea," said Mohd Jusoh who claims to have rescued children from drowning on two occasions as they searched for cockles in the water.
Terengganu Civil Defence Force director Lt Col Che Adam A. Rahman said it is difficult to prevent the people who are eager to earn some money from the sale of the cockles they collect on the beach.
He said they remain adamant despite the repeated warnings and keep returning.
"We have instructed our personnel to conduct patrols twice a day at the beach to monitor the safety of the people and advise them against taking the risk.
"I am informed that the Fire & Rescue Department is also monitoring the safety of the people," he said.
-- BERNAMA