KKMM's agencies must adapt 5G in new approach to disseminate info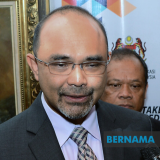 PUTRAJAYA, Nov 12 -- Departments and agencies under the Ministry of Communications and Multimedia (KKMM), particularly the Information Department (JaPen), must pioneer a new method in delivering information regarding government initiatives, including adapting 5G technology in the ecosystem.
KKMM Deputy Secretary-General (Strategic Communications and Creative Industry) Shakib Ahmad Shakir said even though existing approach was still effective, a new approach was needed to cater to the needs of young people.
"As the voting age has been lowered from 21 to 18 years, the messages to be delivered to young voters also important.
"Thus, the delivery method must also be different by taking into account the interests and views of the youngsters," he told reporters after JaPen's Innovation and Excellence Day 2019 here today.

Shakib said a creative and innovative approach in the information delivery system would ensure the government's messages were effectively delivered to the people.
Meanwhile, Information Department Director-General Roselindawati Abdul Rahman said a collective involvement of the departments and agencies under KKMM was important to solidify the public information delivery system.....