Online gambling : 42 Chinese citizens arrested in Ampang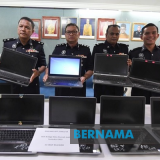 KUALA LUMPUR, Oct 7 (Bernama) -- Forty-two Chinese citizens were arrested in a raid at a bungalow house in Taman Ampang Jaya for suspicions of conducting unlicensed online gambling on Friday.
Ampang Jaya District Police Chief ACP Noor Azmi Yusoff said those arrested were believed to have just started the activity a week ago.
He said the 41 men and one woman arrested were tasked with getting customers and handling gambling activities.
"We believe that they collected RM12,316 in bets per day and they were believed to have been promised a salary of RM3,518 per month including bonus, each.

"All of them, aged between 17 and 35, failed to produce valid work permits," he said to a media conference at Ampang Jaya Police Headquarters, here today.
Noor Azmi said police also confiscated 28 laptops, 50 handphones, two modems, two routers and 19 notebooks.....