Kampung Melor Lama's 'Kopitiam Beruk'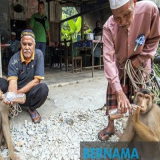 By Habsah Ismail
KOTA BHARU, Aug 12 (Bernama) -- You've heard of people going to a kedai kopi (coffee shop), but ever heard of monkeys, too? And not just that, but to have a brekkie of rice mixed with raw egg or kuih, and milk or soda, before heading off to work to harvest coconuts?
Every morning around 7am, monkey handlers and their monkeys from around the area come to "Warung Kopitiam Beruk" in Kampung Melor Lama, Melor which was started by Rohaida Ibrahim almost 10 years ago to fuel-up, talk shop and conduct a monkey trade – almost like a one-stop centre.

"It's fun to watch the monkeys eating but even more enjoyable to watch them being dotted on by their handlers and hand-fed kuih like Cik Mek and doughnuts, and drinking milk or milo," the 40-year-old told Bernama recently.....