Ex-triad member's encounter with stranger leads him to Islam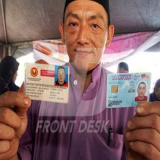 ALOR SETAR, Sept 9 -- A former triad member never imagined that a brief encounter with a stranger named 'Adam' would open the way, and eventually his heart to embracing Islam.
Abdul Rahman Abdullah, 38, formerly Chee Yin Wei, said the short meeting took place in July last year, a period of uncertainty in which he was feeling down and helpless due to a host of problems.
"I was feeling stressed and down with marriage and financial problems, as well as from my involvement with gangsterism, so much so I suddenly found myself at the mosque grounds and met this man, Adam.

"We chatted and I poured out my woes to him. He then invited me to join him for the Asar prayers, and although I wasn't a Muslim then, I agreed. He then taught me how to take the prayer ablution and and then asked to just follow the prayer steps and movement," Abdul Rahman told reporters here today.....