PTPTN suggests Sabah sets up education savings fund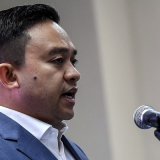 KOTA KINABALU, Sept 7 -- Sabah could follow in the footsteps of other states in encouraging parents to start saving through the National Education Savings Scheme (SSPN) for their children's higher education, according to the National Higher Education Fund Corporation (PTPTN).
PTPTN chairman Wan Saiful Wan Jan said the State Government could also encourage parents to save in SSPN by throwing in some incentives such as prizes in the form of an SSPN account for outstanding students in the UPSR, PT3, SPM, STAM and STPM.
"The state government could establish a Sabah Education Savings Fund for new births, as implemented by Kedah, Perak, Melaka and Terengganu," he said at the state-level SSPN 2019 roadshow here today.

He said the four states presented RM100 to RM200 to each new birth in the form of an SSPN account.....