Police uncover drug processing lab on mersing cattle farm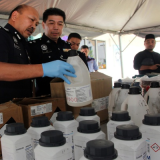 JOHOR BAHRU, Aug 30 -- Police uncovered a drug processing laboratory concealed within a barn in a cattle farm near Kampung Pengkalan Batu, Mersing, on Tuesday and detained three local men.

Johor police chief Datuk Mohd Kamarudin Md Din said the suspects, aged between 33 and 52, arrested in the 4 pm raid, worked on the cattle farm.
He said police seized 186.7 kilogrammes (kg) of chocolate coloured liquid believed to be (unprocessed) drugs, meth oil (11.60 kg), ephedrine (2.02 kg) and red phosphorus (11.80 kg), 10 plastic containers of sodium hydorxide, one bottle of acetic acid, five plastic bottles of hydrochloric acid and two bottles of ethanol absolute.
"The overall value of the drugs seized was RM350,000," he told a press conference here today.....