By Goh Kok Guan
GEORGE TOWN, Jan 15 -- Penang celebrated the beginning and end of two Tamil festivals today.
Today marked the first day of the three-day Ponggal harvest festival, which coincidentally clashed with the day of Mandala Puja, an important ritual symbolising the end of the 41-day austerity known as Mandala Kalam.
During the Mandala Kalam period, between Nov 17 last year and Jan 15 this year, devotees of the Hindu god, Lord Ayyappan, were restricted to having a full vegetarian diet and males kept their beard unshaved.
A visit by Bernama this morning witnessed a few devotees preparing a bonfire to cook the ponggal (sweet rice with milk and brown sugar) inside the Sri Meenakshi Temple, here.
Outside the temple, around 100 devotees and followers, young and old, gathered, with a group playing musical instruments while others were dancing to the beat and throwing powder in various colours at each other, celebrating the final day of Mandala Kalam.
Sri Ayappan Seva Samajam chairman, Davindran K. Jaganatham told Bernama that it was rare for the two annual celebrations to clash with each other.
"For the past 14 years, I have been coming here ( Arulmigu Balathandayuthapani Temple) on Jan 14 each year to celebrate (Mandala Puja), but this year it just so happened to land on Jan 15," he said when met at Arulmigu Balathandayuthapani Temple, also known as the Penang hilltop temple.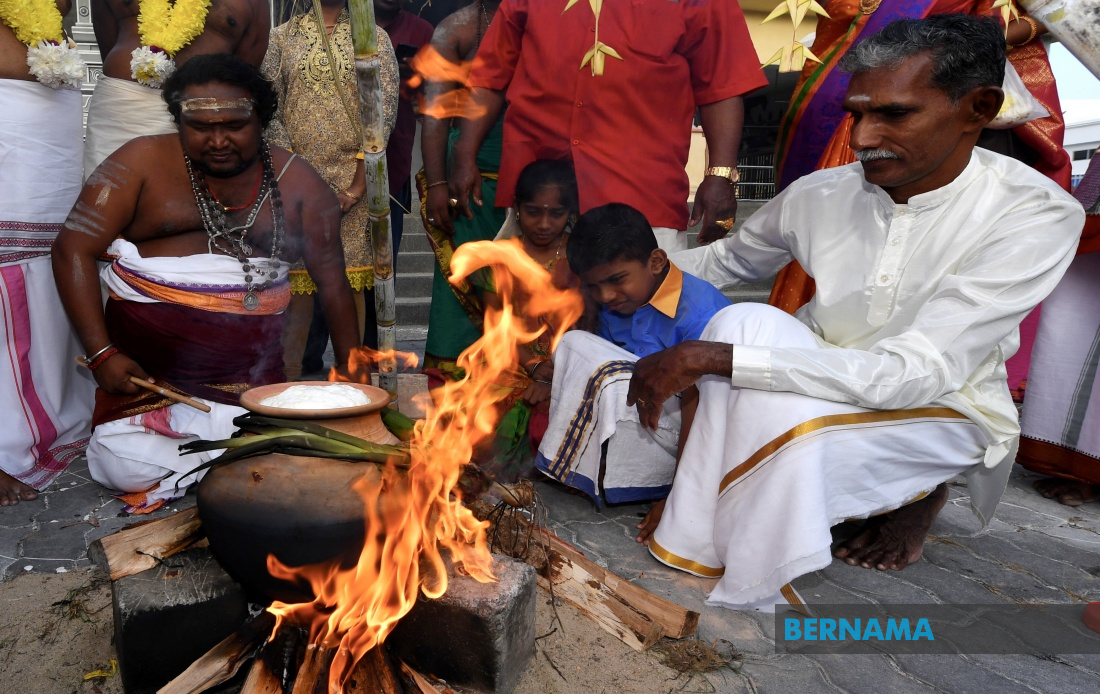 Around 10.30 am, more than 200 Sri Ayappan Seva Samajam devotees and followers walked from Sri Meenakshi Temple to the Penang hilltop temple, carrying Irumudi, a cloth bundle containing uncooked rice and coconut filled with ghee, on top of their heads as offerings to Lord Ayyappan.
As the group climbed the 512 steps to the hilltop temple, a five-year-old girl at the front was chanting through a megaphone, building the spiritual morale and energy for the whole group to reach the top.
The girl, Thushitta Saravana Prakkas, said it was her fourth time visiting the hilltop temple, but it was also her second time chanting for the group to reach the top today.
"I felt very happy and proud to encourage others to reach the top," said the girl who was accompanying her father, Saravana Prakkas Krishnan, 39.
-- BERNAMA